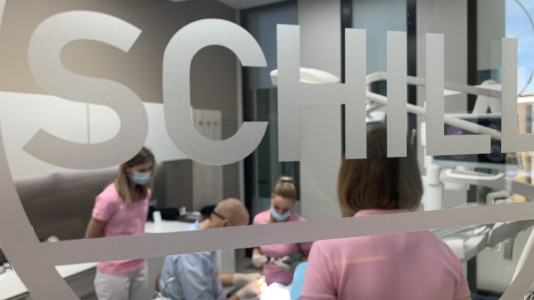 All the surgery directly at our clinic 
Dental surgery takes place at our clinic on a daily basis. We are solving various problems either in local or full anesthesia, depending on how demanding the surgery treatment is. Most often we do: 
tooth extraction (removal of tooth)
implantology (bone preparation, implant placement) 
apicectomy (removal of end part of the tooth root)
endodontics (root canal treatment)
replantation (re-inserting the tooth back into the root)
autotransplantation (moving your own tooth to a diffent position)
pre-prosthetic surgery (adjustment of the tooth base)
periodontal surgery (plastic surgery on the periodontium)
excision (removal of tissue, tumor etc.)
Tooth extraction
Removal of the tooth mechanically in case the tooth cannot be saved or the removal is a must due to health reasons. 
Dental implant surgery
Missing tooth may cause other problems. The gap in the tooth bow is not only non-aesthetic, but it makes the functioning of your teeth worse. If the part of the bone is not under pressure, the bone part can retire. Modern dentistry has a solution how to build up the bone back and create suitable conditions for implant placement in order to create a new rooth and a thus form a your new, functional tooth. An implan is a titaniu or zircon-titanium little screw which serves as a root replacement.  
Apicectomy
The procedure is used to remove inflammatory deposits, which moved into the root tip through tooth nerve and could not be removed by conventional root canal therapy.
Endodontics
Endodontics is the branch of dentistry concerning dental pulp and tissues surrounding the roots of a tooth. Read more about endodontics.
Replantation
This is a re-insertion of the tooth extracted unintentionally (for example after accidents or injuries, for example for athletes). If the tooth is not broken, if the root canal therapy is possible and bone is not damaged, then the tooth can be reinsert again in its original position in the jaw. The younger the patient, the better the chances of success. Fresh, just lost tooth, is good to carry in saliva or milk (in a closed container), so it can be successfully replanted.
Autotransplantation
It is mainly used for young patients who prematurely lose their molars, we can auto-transplant the wisdom teeth back to their original location. In other cases, implantation is used.
Pre-prosthetic surgery
It is one of the possibilities of dental surgery, which regulates the conditions of prosthetics. There are a special surgical procedures that improve the conditions for prosthetics so that they guarantee longer lifetime and better cleaning. Once it was dedicated to pre-surgery activities. Now, it includes interventions during and after surgery.
Periodontal surgery
Periodontal surgery is considered a plastic surgery. It concerns not only periodontal patients with acute conditions, but also cured patients who already have a bone defect. It is related to prosthetic surgery.
Excision
Excision involves interventions like cutting of pieces of mucous and tissue up to removing large tumors. Dentist, under local anesthesia, removes for example excess tissue, wound edges, scars and also mucosal proliferation.
Your most frequent questions
First comes explanation of all the steps and make sure you understand what to do at the end, after the treatment. We will ask all your questions in detail, explain how long each treatment takes. We will make the treatment painless either in local or full anesthesia. We guarantee our work and when you follow our instructions on how to look after your teeth, there is nothing to worry about. 
Even the most excellent treatment in surgery can lead to swelling or pain. Each patient gets a medicine and a cooling bag right after the treatment in order to avoid swallowing and bruising as much as possible. Some clients have little pain, it very much depends on individual conditions. If you decide to use different medicine, we would like to ask you to consult it with us before you start using it, as some medicaments support bleeding which is not desired after surgery. There is no reason for complications if you follow our recommendations after surgery. It is highly recommended to avoid alcohol and smoking for some time in order to make the healing process fast and smooth. Cooling of the affected part is always helpful and has to be done from the outside.